Art Gallery Financial Audit
In regard to addressing the many errors in its 2022 budget request, Council needs to authorize an independent audit of the Art Gallery's financial activities during the past five years using an external auditor. This will also assist taxpayers in understanding the need for the 77.3% increase in the Art Gallery's tax burden that occurred over the past five years. Taxpayers deserve to know how the Art Gallery was able to operate successfully on $285,000 in 2018 and now in 2022 requires nearly twice that, $505,000, to provide the same services.
Furthermore taxpayers deserve to know how the Art Gallery has spent all of those additional funds it has been receiving since 2018. In total the Art Gallery received $518,572, over four years, more than it would have received had its budget been frozen at the 2018 level of 285,000. In the meantime Council needs to roll back staffing to 2018 levels; reduce the art collection to the 2006 levels. The audit must also include an audit of the Collection to determine if there were any changes in the inventory when it was in private hands during the failed incorporation experiment.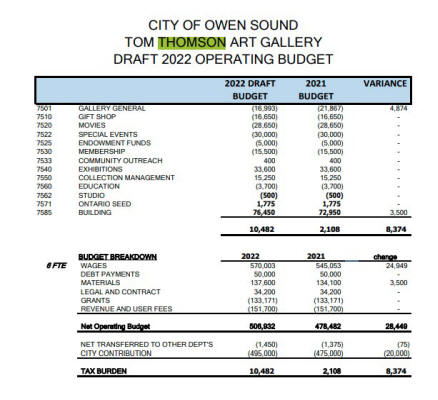 Another reason for the audit is that I observed many irregularities and implausible entries in the 2022 budget. The most obvious is almost all of the forecast revenues for 2022 are identical to those reported in 2021, including the line item labeled, "Revenue and User Fees". This is just not plausible since the Art Gallery was mostly closed during Covid. It is also not plausible that during Covid they used $133,171 on materials during Covid and collected $16,650 in Gift Shop sales during 2021 while the Gallery was closed most of this time. This is exactly why we need an independent audit.
It is also incorrect and very misleading to report the "Tax Burden" from the Art Gallery to be only $10,482. In addition to this the actual tax burden includes $495,000 that is labeled as "City Contribution" which brings the real cost to taxpayers to $505,482. The question I have for the City Manager is; why did he allow this budget, with all of its errors to be briefed to Council? Surely he reviews department budgets before they are presented to Council.
---