Art Gallery Incorrectly Stated Tax Burden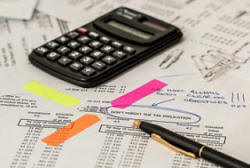 We can see from the Art Gallery's 2022 budget statement at Annex B, that the Art Gallery's burden to tax payers in 2022 was reported as only $10,382. This same statement shows a tax burden of only $2,108 for 2021. If we examine the 2020 Budgeted Operating Expenditures and Revenues by Department on the city's website and also attached at Annex B, figure 25, we see that in 2020 the Tax Burden was $391,186. It's just not plausible that the Art Gallery could go from a deficit in 2020 of $391,186 to only $2,108 in 2021 as shown in their 2022 budget submission?
The 2022 statement produced by the Art Centre is just not correct. After totaling its net operating budget to $508,932, the Art Gallery than subtracted revenues from other departments and the City of $1,450 and $495,000 respectively, and labeled the difference as "Tax Burden". Anyone glancing at this statement would conclude that the operation of the Art Gallery is only going to cost taxpayers $10,482 in 2022, when in fact the total Tax Burden will be $495,000 plus $10,482 or $505,482 – not the $10,482 incorrectly reported in their 2022 submission to Council.
The Art Gallery's tax burden is also shown in the 2022 Budget Tally Sheet, at Annex E, as $475,000. So what is the real tax burden? Is it $10,482 as claimed by the Art Gallery, or $475,000 shown on the City's tally sheet, or the $505,482 that I calculated? The result is that we have very little confidence in the Art Gallery's 2022 budget statement. Had the Art Gallery been presenting an Income Statement, or Statement of Operations following Generally Accepted Accounting Principles so year to year performance could be clearly compared, we would have had much better transparency.
Implausible Revenue Statements
Another apparent anomaly in the Art Gallery's 2022 budget presented to Council is the User Fees that show no impact from the lockdowns when the Art Gallery was not open to visitors. The User Fees from the the Art Gallery statements posted on the city's website are shown here.
| | | | |
| --- | --- | --- | --- |
| 2019 | 2020 | 2021 | 2022 |
| $156,750 | $152,052 | $151,700 | $151,700 |
The bottom line is that we can have little confidence that the Art Gallery's ability to correctly state its operations and equally little confidence in the city manager's office's ability to verify the Art Gallery's operations.
---