Shuttering or Overhauling Poorly Subscribed Services
The Art Gallery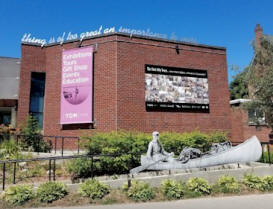 The Art Gallery is currently costing taxpayers slightly over $500,000 a year – more than double what the Airport was costing us. The recent Community Survey showed that an average 76.5% of Phone and Computer respondents said that they rarely or never use this service. Only 2% said that they always use it and an average of 5.5% said they often use it. So at best, 7.5% of residents use the Art Gallery often or always.
As shown in figure 19; this service has the next highest cost per user of the poorly subscribed services at $311.85 per frequent user. When we consider that the cost to the taxpayer for the Art Gallery has grown by 77.3% during the last five years and that less than 6.5% of the community visit the Art Gallery on a regular basis the Art Gallery is a clear candidate for severe reduction or elimination. Perhaps a good way to start would be to roll back their budget.
The cost of the Art Gallery needs to dramatically reduced by imposing a budget roll back to the cost of operations in 2018. It is unbelievable that Council approved huge annual budget increases for this cultural centre that is valued by less than 8% of residents. The Art Gallery functioned quite well on its $285,000 annual budget in 2018. Why now does it need $505,000 to provide the same service? As with Transit, Council needs to direct changes aimed at turning the Art Gallery into a cultural centre that is valued by at the very least 20% of residents. Otherwise we need to cut our losses and close it down, sell the art collection and repurpose or sell the building.
---